Plugged Pipes Inc is a professional, family-owned and operated, full service sewer and drain cleaning business servicing Southeastern Wisconsin, with locations in Caledonia and Milwaukee. We offer services 24 hours a day, 7 days a week and 365 days a year. Our goal is to deliver ideal customer experiences on time with our knowledgeable, clean and professional service techs. Don't settle for a mediocre job, that leaves you calling them back every year. We do the job right the first time so we don't hear from you for years, except for referrals, we love them!
You won't be surprised by some unmarked, shady, run down car pulling up to your house. Our vehicles are easily identified by well-kept logo'd trucks and vans; just like we do our jobs.  We use state of the art equipment made in the USA by Spartan tool. If they make it we probably have it on our trucks to help solve your sewer and drain problems.
Our rates may not be the cheapest or the highest but we do the best job possible every time, guaranteed!
The Largest Drain Maintenance Company
After many years in the corporate world, Michael Hood has always seen himself being the entrepreneur and at times "the jack of all trades". Mike, as his friends know him, had a vision, a service market that was not "plugged" so to speak. Residential and Commercial drain cleaning.
The Residential and Commercial drain cleaning business offered opportunity for growth, working with people, solving problems, and the pride of ownership. This segment of the plumbing service industry has many franchise opportunities, but Mike wanted his own home grown business. No fees, no restrictions, and no one closely scrutinizing how he goes to work. His vision includes satisfied customers at a fair price. This comes from lower overhead, and fiscally responsible business practices.
Plugged Pipes, founded in 2015, has aggressively and proudly serviced Southeastern Wisconsin's 7 county area, including Kenosha County, Racine County, Walworth County, Milwaukee County, Waukesha County, Ozaukee County, and Washington County. No Emergency To Small, No Emergency To Large!. Plugged Pipes' growth was sparked by a few local owned Plumbing contractor subcontracting this specialized drain cleaning service to the capable hands of Mike and his crew.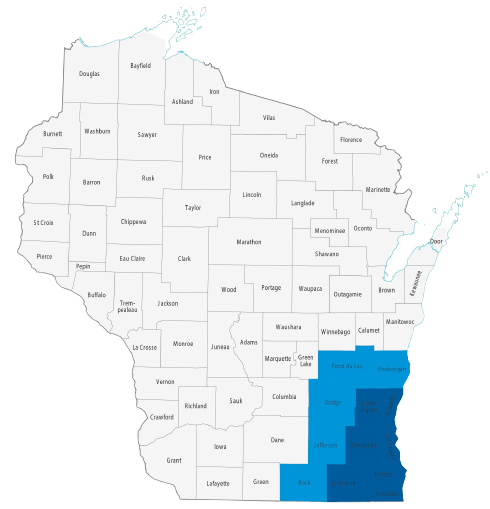 Plugged Pipes is aggressively and proudly serviced Southeastern Wisconsin's 7 county area, including Kenosha County, Racine County, Walworth County, Milwaukee County, Waukesha County, Ozaukee County, and Washington County.
communities served include
Burlington, Caledonia, Dover, Elmwood Park, Mount Pleasant, North Bay, Norway, Racine, Raymond, Rochester, Rochester, Sturtevant, Union Grove, Waterford, Waterford, Wind Point, Yorkville
communities served include
Brighton, Bristol, Kenosha, Paddock Lake, Paris, Pleasant Prairie, Randall, Salem, Silver Lake, Somers, Wheatland, Twin Lakes
communities served include
Brown Deer, Cudahy, Fox Point, Franklin, Glendale, Greendale, Greenfield, Hales Corners, Oak Creek, River Hills, Shorewood, West Milwaukee, Whitefish Bay, Milwaukee, South Milwaukee, West Allis, Wauwatosa, St. Francis
communities served include
Big Bend, Brookfield, Brookfield, Butler, Chenequa, Delafield, Delafield, Dousman, Eagle, Eagle, Elm Grove, Genesee, Hartland, Lannon, Lisbon, Menomonee Falls, Merton, Merton, Mukwonago, Muskego, Nashotah, New Berlin, North Prairie, Oconomowoc Oconomowoc, Oconomowoc Lake, Ottawa, Pewaukee, Pewaukee, Summit Sussex, Vernon, Wales, Waukesha
communities served include
Barton, Erin, Farmington, Germantown, Germantown, Hartford, Jackson, Jackson, Kewaskum, Polk, Richfield, Slinger, Trenton, Wayne, West Bend, West Bend Addison
communities served include
Bloomfield, Darien, Delavan, Delavan, East Troy, East Troy, Fontana, Geneva, Genoa City *, La Grange, Lafayette, Lake Geneva, Linn, Lyons, Mukwonago *, Richmond, Sharon, Sharon, Spring Prairie, Sugar Creek, Troy, Walworth, Walworth, Whitewater, Williams Bay, Darien, Elkhorn
communities served include
Belgium, Cedarburg, Cedarburg, Fredonia, Fredonia, Grafton, Grafton, Mequon, Newburg *, Port Washington, Port Washington, Saukville, Saukville, Thiensville Belgium
Spartan Tool has been exceeding expectations for sewer and drain cleaning equipment since 1943. Plugged Pipes Incorporated's choice for long-lasting performance, superior quality, and product innovation, Spartan has propelled the sewer and drain cleaning industry forward. Plugged Pipes Inc. uses Spartan sewer jetters, cable machines, sewer inspection cameras, and drain cleaning cables. Spartan seems to have an unmatched commitment to quality and performance that we need and you, our customer, demand from us.

THE PLUGGED PIPES DIFFERENCE
Our policy is "Get the job done right the first time". We strive to satisfy every customer with all circumstances within our control. We can't control environmental conditions or damages done by previous contractors. We will identify these when possible. We are thorough with all of our projects you entrust us with, and trust you will give us any additional information possible so proper diagnosis are completed in a timely fashion.
Diagnostic services such as camera inspection and pipe locating, while extremely accurate, do have limitations or margin of error. If at any time these limitations present a probability for changing specific outcomes, these will be review with the customer. If at anytime the customer is concerned with or questions a potential, we are happy to explain the procedure so that we are all on the same page!
Our team of experts is available 24/7, 365 days a year