No one likes doing laundry, and no one wants a clogged laundry drain… Over time gunk and buildup can cause a washing machine drain to clog, resulting in water that won't drain down the pipe. The largest culprit might be simply lint and other material separated from your clothing. If you aren't using a lint catch, you probably will run into a problem sooner or later. If you are discharging into a laundry tub, what else has gotten in there?
Clogged laundry and washing machine lines occur for many reasons, with the most prominent reason being the accumulation of debris in the pipes. Flooding is one of the most common plumbing-related issues when it comes to washing machines – typically it means the drain lines are clogged with lint, buildup or another type of debris.
For quick laundry drain cleaning services that are affordable and environmentally friendly, call Plugged Pipes now! We proudly service the laundry drain needs of those in the Southeastern Wisconsin areas with professionalism and always in a timely manner.
Clogged laundry washing machine line services in Southeastern Wisconsin's 7 county area, including Kenosha County, Racine County, Walworth County, Milwaukee County, Waukesha County, Ozaukee County, and Washington County.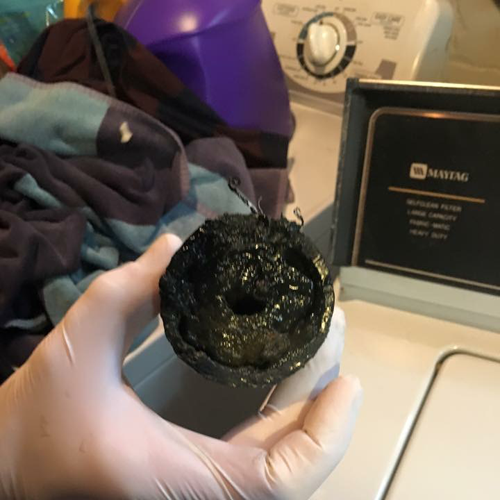 When your washing machine line becomes clogged, to say it is an unpleasant experience is most likely an understatement. Unfortunately, when washing machine line issues arise and they are not taken care of thoroughly the first time, they tend to progressively get worse until you have no choice but to hire a professional. Save yourself the trouble, and call Plugged Pipes at the first sign of a clogged washing machine line or laundry drain. Fixing a minor clog is significantly cheaper than fixing a serious clog, and we guarantee affordable prices for all of our services. Don't let your mole hill of a clog turn into a mountain, and call us for help today!
What Causes Laundry Clogs?
Similar to bathroom and kitchen clogs, washing machine and laundry line clogs are typically completely avoidable. Usually, laundry clogs are due to soap scum, hair, grease from articles washed, debris, lint, and hard water deposits. For simple clogs you can usually take care of this yourself using a bended wire hanger or plunger to free the waste from the drain. Hard water deposits are trickier to resolve and tends to require the use of water softeners which can pose a risk if not used properly. If you are unable to fix your clogged kitchen with a DIY tool, call Plugged Pipes and we will send someone out immediately to repair the clog fast.
Our team of experts is available 24/7, 365 days a year